November 25, 2016 3:18 PM
Mr.Danielius and Ms.Asta From Lithuania
We are very honored to help the secretary of Embassy of the republic of Lithuania, Ms. Asta and her precious husband, Mr. Danielius who is a devoted and supportive person and they readity consented with our Customer Interviews.
We greatly appreciate and we're very touched with their attitude and desire to contribute to both countries friendship Lithuania and Japan.
This interview must have been a surprise and a revelation to you. We excitedly did when we heard of it, too! Their speech couldn't be stopped and it was difficult to record all because their topics become so rich!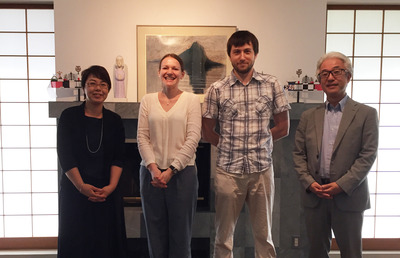 LITHUANIA faces the Baltic Sea and is bordered on the north by LATVIA, on the east by BELARUS, on the south by Poland, and the south west by Kaliningradskaya oblast, the outlier of RUSSIA. LITHUANIA is the largest of the Baltic states. We'll be able to travel to LITHUANIA from Tokyo, Narita International airport by way of Helsinki, Finland, it'll be taken for about 11 hours.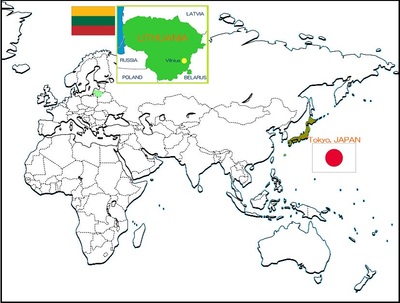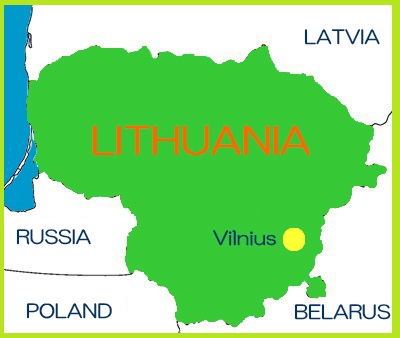 This country have a state of many ethnic groups of being together and their ethnic composition is Lithuanians:84.2%, Poles:6.6%,Russians:5.8%,Belorussians:1.2% and other :2.2%. Lithuanian is an archaic language from Sanskrit, in comparison to those in other countries. Lithuanian people are proud that only 3 million people can have a good command of Lithuanian language in the world. The other language also will be used their neighbors language, such as Russian, Polish, and German and English in the large city.
Because there are an environment with multinational civilization as above, the capital city "Vilnius" had became very multi cultural and very interesting place by lots of influences from easten and westen Europe. You will find the interesting street names in German, Jewish or the other language.

Historic Centre of "Vilnius"
This is especially one of the notatable point, this capital city has had a fundamental influence on the artical and the architectual development of easten Europe. It's very visible with visitting in the city centre, Vilnius has conserved these impressive complex of Gothic, Renaissance, Baroque and Classical architectures were laid out with medieval plan. Visiters must be able to enjoy its beautiful landscape.They are included on the UNESCO's world heritage List.(Source:http://www.europeanwise.eu/vilnius-conference/)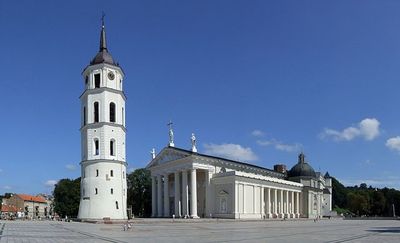 Vilnius Cathedral
The Cathedral is located in the heart of Vilnius Old Town and fascinates you by grandness architecture design. The Cathedral was built in the 13th century. (Source:https://commons.wikimedia.org/wiki/File:Vilnius_(Wilno)_-_cathedral.jpg?uselang=ja)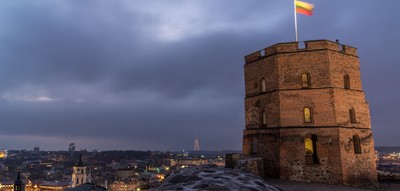 Gediminas Tower
This tower is a symbol of Vilnius and one of the only remaining parts of the Upper Castle. It was originally built by wood in the 14th century, then fortified with brick in the 15th century.(Source:http://mylastdestination.eu/not-enough-time-for-vilnius/)

The Hill of Crosses is one of the most beautiful places, is situated in Siauliai. Siauliai is the fourth largest city in Northern Lithuania, about 250 km away from Vilnius. The first crosses was placed around the 19th century. If you're looking for the great views of Lithuania, that's the best spot. (Source:https://commons.wikimedia.org/wiki/File:Hill-of-crosses-siauliai.jpg)
Traditional Lithuanian sweet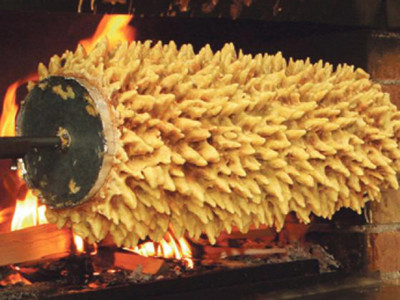 šakotis
(Source:http://www.onfoodietrail.com/spit-cakes-across-europe/
https://en.wikipedia.org/wiki/%C5%A0akotis)
Experience of traditional food in Lithuania, "šakotis" is a traditional spit cake, name means "branchy" in Lithuanian. The dripping batter is making forms it looks like a tree. The recipe was brought from Germany in the middle ages. The making time is more faster than making German Baumkuchen. These traditional spit cakes cooking method were passed down to the people from Austria,Poland, Lithuania, France, Sweden and some countries in Europe.You can get these cakes in the supermarkets and souvenir shops in Lithuania. It's very interesting to comparing the taste to other regions. Also in Tokyo, you can get similar cakes, it's close to more Baumkuchen.
The representative Artist in Lithuania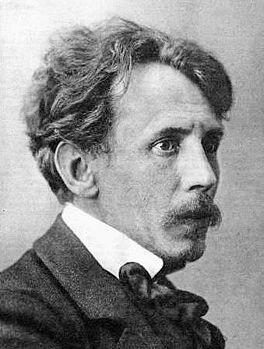 Mikalojus Konstantinas Čiurlionis(1875-1911)
(Source:http://ciurlionis.eu/en/)
Mikalojus Konstantinas Čiurlionis, he is the most famous Lithuanian artist and composer who created around 400 paintings and etchings, literary works and poems, music composition during the late 19th century to thr early 20th century. He was known as a pioneer of abstract art which was combined paintings with Lithuanian tradition and foreign culture, Symbolism, Romanticism and "Secession" which is group of artists who practised the 19th century Austrian art style. Čiurlionis had great influence to the republic of art and culture in Europe.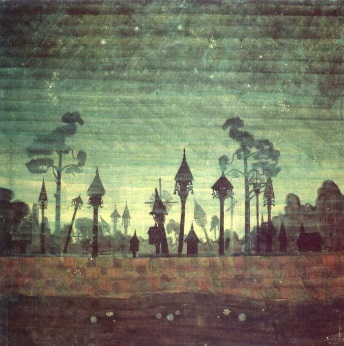 The Embassy of the republic of Lithuania in Japan, his painting is displayed and they treasure this wise man's flair.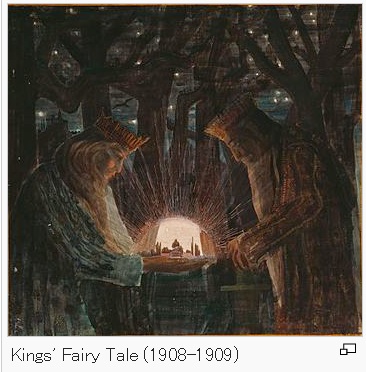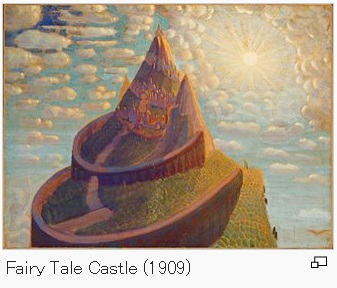 His latest mature paintings were based on musical compositional techniques and musical complexes of rhythm, melody and harmony.
Creater in contemporary Lithuania,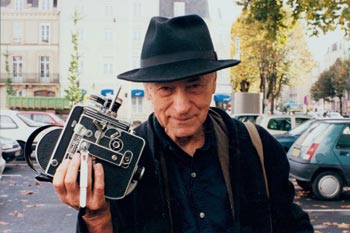 Jonas Mekas(1922~)
(Source:https://en.wikipedia.org/wiki/Jonas_Mekas,http://jonasmekas.com/diary/)
Jonas Mekas is a Lithuanian filmmaker, poet and artist who has been called " the god father of American avant-garde cinema".He was born in 1922 in the farming village in Lithuania, he currentry lives and works in New York City. In 1950s, he settled down in Brooklyn with his brother who was brought and become free from the Nazis after the war. He started with recording his life by his first 16mm movie camera, which was Bolex and he's been known as a great user. Shortly after, he got involved the movement of against Hollywood films by filmmakers society in New York City i.e. "the American Avant-Garde film movement". Jonas Mekas has received many honors and awards from 1960s to today, and young filmmakers are aiming to become a artist like Jonas Mekas. Some of big fans created fansite of Jonas's filmography internationally and they respect him very much. It's included Japanese fansite, too.
A madiator between Lithuania and Japan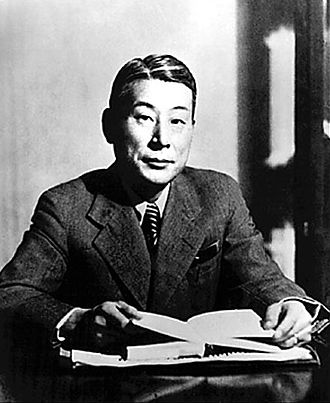 Chiune Sugihara(1900~1986)
(Source:https://en.wikipedia.org/wiki/Chiune_Sugihara)
Chiune Sugihara was born in Yaotsu, Gifu prefecture and he studied foreign languages in Tokyo at Waseda University. In 1919 Sugihara joined the Japanese Foreign Ministry and was posted to Harbin in China, becoming an expert in Russian.
20 years later Sugihara found himself as the vice-consul at the Japanese Consulate in Kaunas, Lithuania when the Second World War broke out in Europe with the German invasion of Poland. It was told that thousands of European Jews besieged the Japanese Consulate begging for transit visas via Japan to escape Nazi persecution. Sugihara asked for advice from his superiors in Tokyo on how to deal with the escalating humanitarian crisis outside his consulate. Ignoring their orders not to issue visas, Sugihara followed his conscience and began hand-writing visas for the thousands of Jews pleading for an escape route.
Sugihara's actions of issuing valid transit visas are thought to have saved the lives of around 6,000 Jews, who fled across Russia to Vladivostok and then Japan to escape the concentration camps. Sugihara continued issuing visas even as his train was leaving the railway station Lithuania when the consulate was closed down in 1940 and he left for a new posting in Berlin. One of the most famous Japanese in Lithuania who has been a liaison officer for international relations between Japan and Lithuania even today through the medium of Film and visiting their memorial museums in the world.
This year is an anniversary celebrating the passage of 25 years about the re-establishment of diplomatic relations between Lithuania and Japan!! Embassy of the republic of Lithuania, they are continueing their efforts for promote Lithuanian culture in all countries by Historical and Cultural Exchange.
We want to say thank you very much to Mr.Danielius and Ms.Asta for giving us the oppotunity to experience culture and history of Lithuania through to this interview! The more we study, the more we want to discover about your country!
Here is more details with interview movie. You watch, more you discover about Lithuania!
"Ačiū" Danielius-san and Asta-san!!
TAI Customer Interview archives:
http://tokyoapartmentinc.com/rent/blog/customer_interviews/
Text by Kaori Narita.
Categories
Recent posts
Calendar
| M | Tu | W | Th | F | Sa | Su |
| --- | --- | --- | --- | --- | --- | --- |
| | | | 1 | 2 | 3 | 4 |
| 5 | 6 | 7 | 8 | 9 | 10 | 11 |
| 12 | 13 | 14 | 15 | 16 | 17 | 18 |
| 19 | 20 | 21 | 22 | 23 | 24 | 25 |
| 26 | 27 | 28 | 29 | 30 | | |
Archive
Author