September 28, 2017 1:50 PM

運 慶: UNKEI (1150 - 1223) Exhibition @ Tokyo National Museum. This is a blockbuster show of UNKEI. UNKEI was one of the most influential artists in the history of Japanese Buddhist sculpture. I'm just ......
Read more
September 17, 2017 10:18 AM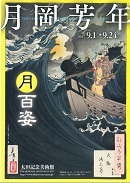 月岡芳年(1839 - 1892 ):Tsukioka Yoshitoshi Exhibition @ Ota Memorial Museum in Tokyo. This is a fascinating exhibition of Tsukioka Yoshitoshi, which comprises of most well-known works 【月百姿】- one hundred v......
Read more
Categories
Recent posts
Calendar
| M | Tu | W | Th | F | Sa | Su |
| --- | --- | --- | --- | --- | --- | --- |
| | | | | | 1 | 2 |
| 3 | 4 | 5 | 6 | 7 | 8 | 9 |
| 10 | 11 | 12 | 13 | 14 | 15 | 16 |
| 17 | 18 | 19 | 20 | 21 | 22 | 23 |
| 24 | 25 | 26 | 27 | 28 | 29 | 30 |
Archive
Author