What is Shichi-Go-San? How to Celebrate This Japanese Tradition at a Temple or Shrine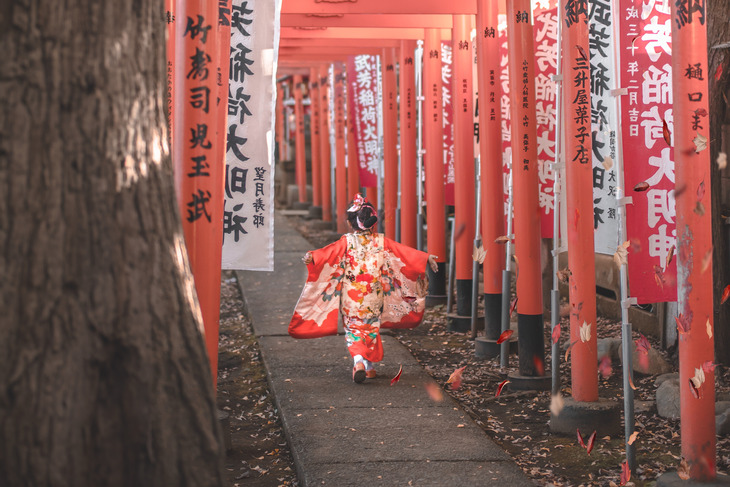 Visiting shrines or temples in Japan in November? If so, there's a good chance you'll see young children dressed in beautiful kimonos participating in ceremonies or posing for photos with their families. This is Shichi-Go-San, a popular traditional Japanese celebration of important milestones in a young child's life.
While this is a traditional Japanese rite of passage, there's nothing stopping you and your children from going to a shrine and participating in it if you are living in Japan. And even if you have no plans to take part in Shichi-Go-San, understanding how to pray at a shrine or temple is a great way to gain a deeper appreciation for Japanese culture. So first, let's take a look at what Shichi-Go-San is, and after that learn how to properly pray to the gods at a shrine or temple in Japan, just like the Japanese do!
What is Shichi-Go-San?
Shichi-Go-San (which literally means seven-five-three in Japanese) is a traditional Japanese rite of passage and celebration where children ages three, five, and seven visit shrines or temples to celebrate their growth. While the celebration of Shichi-Go-San is traditionally held on November 15th, many families choose to celebrate it on different days in October or November depending on when they are free, especially on weekends or national holidays.
Though it comes from a time centuries ago when infant mortality rates were much higher, it is still very popular and most children take part in it when they turn the right age. Traditionally, girls will celebrate Shichi-Go-San when they turn three and seven, while boys will celebrate it when they turn five (and sometimes when they turn three, though this isn't as common as for girls). It is a fun, special day where families come together to dress up and wish for the well-being and prosperity of their children.
How is Shichi-Go-San Celebrated?
On the day a family chooses to celebrate Shichi-Go-San, parents will usually take their child to a shrine or a temple to thank the gods for the health of their child and to pray for their children's continued growth. During this celebration, girls will traditionally wear a kimono, while boys will usually wear a hakama (though in modern times it is also not uncommon to see boys wearing suits instead). The children may go to the shrine or temple with only their parents, or other family members like grandparents may join as well.
On Shichi-Go-San, many shrines hold special ceremonies that the children celebrating take part in, which will be conducted by a priest. Generally, the priest will perform a ritual purification, read the names of all the children participating, and then have the children give an offering to the gods one by one. After that, the children are usually given gifts by the priest as well. After finishing at the shrine, families will usually gather for a meal (some shrines even offer to organize traditional Japanese kaiseki meals for families) and give children celebratory sweets.
One of the most common and traditional sweets given to children on Shichi-Go-San is called "Chitose Ame." This is a long, thin, red-and-white candy that is associated with longevity, symbolizing wishing for a child's healthy growth. The candy's packaging is often elaborate, with designs like cranes, turtles, bamboo, and so on.


Worshipping the Gods at a Temple or Shrine
Interested in celebrating Shichi-Go-San with your family, or just planning on visiting shrines and temples when you visit Japan? While it's fine to simply wander around and enjoy the atmosphere and scenery, learning more about the differences between shrines and temples and how to pray at these places of worship will help you deepen your understanding of Japan and ultimately have a more rewarding experience in this country.
Shrines vs. Temples: How Are They Different?
As you travel around Japan, you'll find both shrines (jinja in Japanese) and temples (tera in Japanese) all over the country. If you don't know much about them or Japanese culture, you might assume that they aren't very different. The reality is that shrines and temples are dedicated to entirely different religions. So let's go over some of those differences so that you can properly understand the places you visit.
Shrines are religious institutions associated with Shintoism, Japan's religion since ancient times. At shrines, all prayers and rituals are dedicated to worshipping the many gods that are believed to live in the natural world. Temples, on the other hand, are Buddhist establishments where Buddhist practices, prayers, and rituals take place.
An easy way to tell if you are visiting a shrine or temple is to look at the architecture. Shrines typically have a large "torii" gate that marks the entrance of the shrine and that you will pass under as you make your way to the main building. Temples often feature many Buddhist statues and symbols and sometimes feature large pagodas or main halls.
Tips for Visiting a Shrine or Temple
Decided to go with your child to a shrine or temple to celebrate Shichi-Go-San and want to make sure you pray to the gods properly, or at the very least don't do anything to offend the gods or other people? If so, here are a few tips to help you navigate the complicated world of Japanese temple and shrine worship etiquette.
・What to Wear
When you visit a shrine or temple, it's usually best to wear clothing that doesn't show too much skin. The clothing you'd wear to a place of worship in your home country It's not very likely that someone will tell you off for wandering the temple or shrine grounds in shorts or tank tops, but it may be more difficult to enter inside any buildings there, so keep that in mind.
・Wash Your Hands!
Before entering a shrine or temple, be sure to wash your hands using basins that are usually located around the entrance. These "temizuya" usually look like fountains and there will be ladles there for you to use to wash your hands. The idea is to make yourself clean before praying to the gods.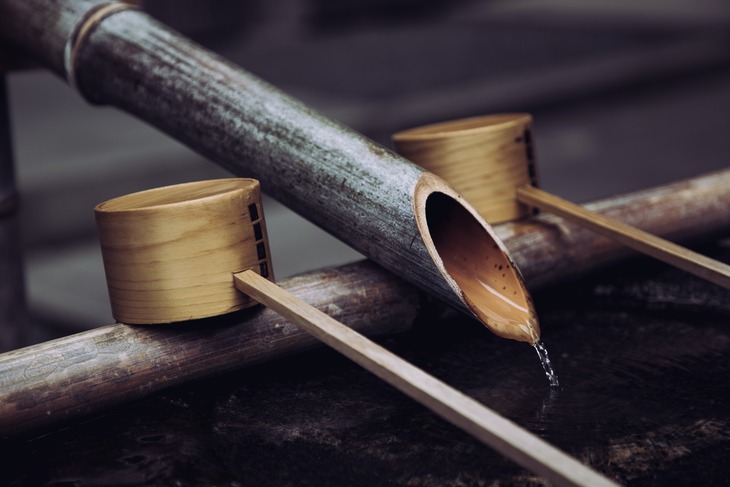 ・Where To Take Photos
Usually, it shouldn't be a problem to take photos of your child celebrating Shichi-Go-San within temple or shrine grounds as long as you're not blocking pathways, causing trouble for other worshippers, or taking photos in an area you are not allowed to enter. However many shrines and temples do have areas where photos are not permitted (especially inside) so be sure to check for signs or instructions wherever you are to make sure it is okay for you to snap a few pics. If you participate in a formal Shichi-Go-San ceremony, you most likely will not be allowed to take pictures during the ceremony.
If you're just visiting a shrine or temple as a tourist, the same rules apply. As long as you're respectful, it's usually fine to take photos anywhere that there isn't a sign explicitly forbidding it.
How to Pray at a Shrine or Temple in Japan
Depending on whether you are at a shrine or a temple, how you go about praying varies.
At temples, praying is done very quietly. At the altar, you should fold your hands in front of your chest and bow, take three incense sticks, light them, and then after putting them out place them in the incense burner quietly. Once that is finished, fold your hands in front of your chest and bow one more time.
At shrines, prayer is done a little more loudly (relatively speaking). Once you reach the main hall at a shrine, make an offering by throwing a coin into the offering box, ring the bell if there is one, bow deeply twice, clap your hands twice in front of your chest, clap two more times, and then pray. When you are finished praying, bow deeply one more time.
If these steps seem confusing or you are still not sure what to do, watch those around you! While the steps may be complicated they are relatively straightforward and easy to copy if you see people doing the same.
Grab a Fortune-Telling Omikuji Before You Leave!
A fun little souvenir from a shrine or temple is an omikuji, which is a small fortune-telling paper that you usually draw randomly from a large box after paying a small fee (often around 100 yen). There are various luck levels of omikuji, ranging from daikoshi (大凶) or "great misfortune," to daikichi (大吉) or "great luck," though usually people pull an omikuji with a luck level somewhere in the middle.

If you get lucky and pull a daikichi fortune, you should take it home with you as a souvenir! People will often keep these fortune slips in their bags or wallets and hold on to them for one year. If your fortune isn't so lucky, there are usually spots where you can tie the fortune slip to a string to rid yourself of the bad or not-so-good luck.
Sometimes temples and shrines will have English omikuji available, especially large or famous ones in cities like Tokyo or Kyoto, but others may only have omikuji written in Japanese. Even if you can't read Japanese, a Japanese-only omikuji still makes for a neat souvenir that may be unlike anything you can get in your home country.
Enjoy Japan's Shrines and Temples this Shichi-Go-San Season!
Even if you don't have kids or aren't planning to have them participate in Shichi-Go-San, keep an eye out if you're visiting shrines or temples this fall! October and November are the only months of the year when you have an excellent chance to see many children dressed in beautiful Japanese outfits celebrating with their families, and it is an adorable and beautiful sight to see. If you're only visiting Japan as a tourist, seeing Shichi-Go-San celebrations will be a unique experience and a great memory of a uniquely Japanese rite of passage.
EMAIL US