Shibuya vs Shinjuku vs Ikebukuro: Which Tokyo Hotspot Should You Visit?


Tokyo's Major Districts
In a megacity like Tokyo, the number of places you could go as a tourist is countless. There are so many unique neighborhoods to visit, but as a tourist, you'll probably start your Tokyo adventure in one of the major downtown districts of the city: Shibuya, Shinjuku, or Ikebukuro.
But when you're in a city with more than one downtown to choose from, where do you go first? Where do you spend time during the day, and where do you go to have fun at night? Which district's atmosphere will you vibe with the most?
Let's answer those questions by taking a look at what makes these three districts special so that you can have an easier time choosing where to go and have the best time possible while you're in Tokyo.
The Fun and Fashion of Shibuya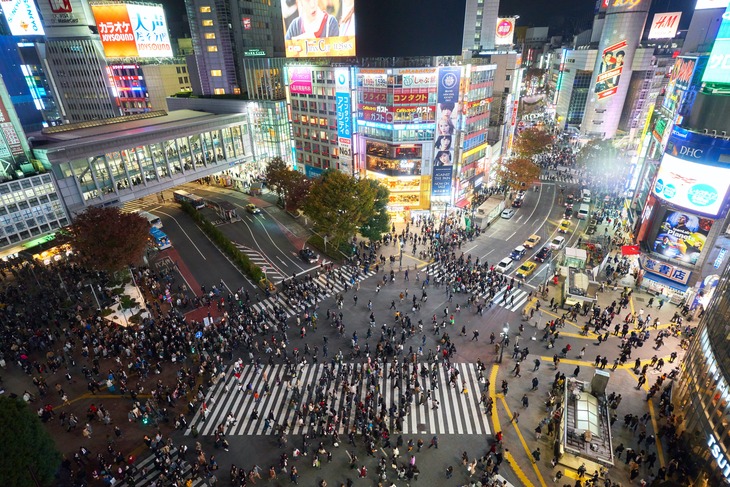 Featuring the iconic Shibuya Crossing and so many things to do and see, Shibuya is where you want to go if shopping, food, and fashion are what excite you about visiting Tokyo. Shibuya is known as the ground zero of Japanese fashion and is where you'll find many of Tokyo's young people hanging out all day and night.
There are plenty of things to see in Shibuya, including the famous statue of the dog Hachiko, right outside Shibuya Station, which is a popular spot for people to meet up. From there you can join the thousands of people scrambling through Shibuya Crossing and explore the restaurants of Dogenzaka Street, go shopping on Koen-dori, or take a walk or short train ride to Harajuku-the center of Japanese youth fashion and culture. If you're more interested in traditional Japanese culture and history, just head in the opposite direction of Harajuku's famous Takeshita Street to see Meiji Shrine. In Shibuya alone the sightseeing options are endless.
If you're looking for breathtaking views of Shinjuku, head to Shibuya Scramble Square-a relatively new complex opened in 2019 that features a fantastic 230-meter-high observation deck called "SHIBUYA SKY." If you love city views at night, be sure to check this place out. But be warned that it is very popular and crowded, and items like backpacks and selfie sticks aren't allowed on the observation deck itself.
The Neon Lights of Shinjuku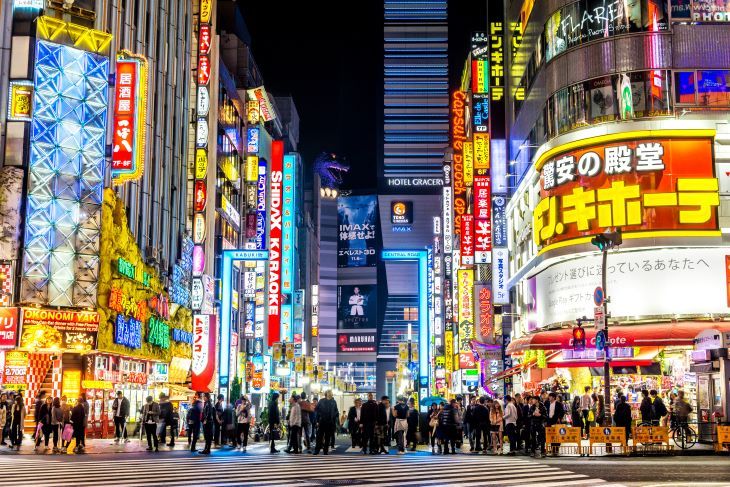 Shinjuku is one of the most easily accessible locations in Tokyo thanks to Shinjuku Station-the busiest train station in the world. Seventeen train lines can get you to and from Shinjuku, and taking a bus from Busta Shinjuku-the station's bus and taxi terminal-can get you all over Japan. This makes Shinjuku an easy first stop in Tokyo, especially if you're coming from the airport. There are also tons of hotels in the area, ranging from expensive luxury hotels to cheap capsule hotels, so staying in Shinjuku can be a smart choice.
Shinjuku has loads of shopping and restaurant options, and during the daytime, you can go to the Tokyo Metropolitan Government Building's observation deck to enjoy 360-degree views of the city. Going up to the observation deck is free, and on clear, sunny days you can even see Mt. Fuji from the top.
But Shinjuku is most famous and popular for its nightlife and entertainment districts, in particular Kabukicho and Shinjuku Golden Gai. When people imagine the bright lights and neon signs of Tokyo, they're usually thinking of Kabukicho. This district in Shinjuku is famous for restaurants, nightclubs, and host and hostess clubs that are open all night long. It's also where you can see the famous Godzilla statue poking out of the Toho Cinema movie theater.
Golden Gai, which is in Kabukicho, is a small group of narrow alleys packed full of tiny bars and restaurants where you'll be sitting shoulder-to-shoulder with other patrons. This area is a great place to eat some good food and get the chance to talk to locals since you'll all be crammed into a tight cozy space together.
The Charm of Ikebukuro
Compared to Shinjuku and Shibuya, Ikebukuro is not a huge district, but it still has its own charms and things to do. Since there are nine train lines that can get you to Ikebukuro Station, it is also very accessible and a good hub to travel to and from when visiting Tokyo. Ikebukuro is also close to major roads, so there are buses that can take you to both Narita and Haneda Airport, as well as other cities in Japan like Nagano and Osaka.
If you're a fan of anime, manga, and Japanese subcultures, spending time in Ikebukuro should be on your To-Do list. The downtown is divided into two areas. On the east side, you'll find Sunshine City, a massive complex with a shopping mall, restaurants, museums, and an observation deck. Sunshine City also houses Japan's biggest Pokemon Center, so if you're a fan of that franchise be sure to check that out. The west side is centered around Rosa Kaikan, a retro building that has an arcade, bowling alley, restaurants, and more inside.
But Ikebukuro's biggest attraction has to be Otome Road, Ikebukuro's cultural center and host to shops dedicated to everything anime and manga. There's a massive Animate (a famous seller of anime and manga goods) at one end, and from there you'll find many shops along the street dedicated to anime and manga goods. Many of these shops specifically sell anime and manga goods targeted more towards women, making Otome Road more popular than Akihabara for female Japanese manga fans.
Traveling Between Hubs is Easy!
If your time is limited or you want to see as much as you can of Tokyo in a day, don't worry! There are multiple ways to travel between each district by train, and you can get to one from the other in twenty minutes or less.
To travel from Shibuya to Shinjuku, you can take the JR Yamanote Line or the Tokyo Metro Fukutoshin Line. It only takes around ten minutes.
To get from Shibuya to Ikebukuro, you can also take the Fukutoshin Line or the Yurakucho Line, and either one will get you there in about twenty minutes.
You can take the JR Yamanote Line or the JR Saikyo Line to go to Ikebukuro from Shinjuku. They'll get you there in about ten minutes.
Where to First?
Shibuya, Shinjuku, and Ikebukuro are all amazing in their own ways and have their own unique atmospheres, so which one you visit first or spend more time in depends on your interests, hotel location, and the kinds of places you want to go sightseeing.
If fashion, shopping, food, and a buzzing atmosphere all day and night are what you're looking for, go to Shibuya first!
If bright lights, bars, and partying all night long is more exciting for you, Shinjuku is where you want to go.
If you want to see more of Japan's anime and manga subculture, do some shopping and sightseeing, and spend time somewhere a little less crowded, then check out Ikebukuro.
Tokyo is a vibrant, beautiful city waiting for you to discover it. If you're spending a few days in Tokyo, you'll have time to explore all of these city centers and more, so don't stress about where to go!