Popular in Tokyo! Stationery Goods and Stores in Tokyo


1 Even in Tokyo, stationery goods are more popular than ever!
Stationery is something loved by both foreigners and Japanese, and has proven to be indispensable. There are lots of stationery specialty stores in Tokyo, and are frequented by those who love stationery and those who collect stationery as a hobby.
It's exciting to discover that stationery that has evolved over the years, and stationery that is still sold as is.
In an accelerating digital modern society, stationery is the one thing that supplements the parts of digitalization that cannot be digitized when writing or making new things. One of the pleasures of sightseeing in Tokyo is finding your favorite Japanese goods, not only traditional stationery but also new stationery.
In this edition, we will introduce you to some of the places where stationery is sold in Tokyo for the foreigners who loves stationery. Here are a few of the more popular items available and recommended stores where you can find stationery to take back home as souvenirs from Tokyo.
2 Specialty stationery shops in Tokyo
In Japan, you are sure to be astonished by the wide range of stationery, from the very high-end goods to the lower, more affordable goods. Here are a few of the places in Tokyo where you can find an array of specialty stationery goods in Tokyo.
・LOFT
LOFT has a huge variety of household goods and their location in Ikebukuro is one of the largest stores in Tokyo. Just looking at ballpoint pens, you will find more than 10 kinds to choose from and if you love stationery, you will have to be careful not to spend all day looking at all they have.
【Homepage】https://www.loft.co.jp/
・Itoya (G.Itoya)
Itoya is one of the older stationery stores in Japan with a history of more than 100 years in Tokyo, but was reopened in June 2015 as G.Itoya. G.Itoya has become a very popular spot for foreign tourists visiting Ginza as a place to find "beautiful and easy-to-use items" and is recommended for foreigners who are looking for quality souvenirs as well as some of the best stationery available.
【Homepage】https://www.ito-ya.co.jp/ https://www.ito-ya.co.jp/ginza/
・DELFONICS(Smith)
DELFONICS handles original and select stationery. They also have a store called Smith, which sells not only stationery, but also miscellaneous goods. There are 27 stores nationwide for foreigners who want stylish and practical stationery with high designs.
【Homepage】http://www.delfonics.com/top.html
・Sekaido
Sekaido is known as the cheapest stationery and art supplies shop in Japan as well as in Tokyo. Its head office is located in Shinjuku, and it is often featured in media all over the world. Maybe you've heard of them? Sekaido is so popular that foreigners come to Tokyo to buy not only stationery but also items such as picture frames and art supplies.
【Homepage】https://www.sekaido.co.jp/
3 Stationery goods at convenience stores
Some people may not have the time to go out and find a stationery shop while sightseeing in Tokyo. If that is the case with you, be sure to check out the stationery corner of your local convenience store. Convenience stores often have limited edition stationery and some of the most popular stationery loved in.
The major convenience store chain Seven-Eleven will sometimes have limited edition mini stationery goods that are sold in collaboration with the store LOFT. If you get the chance to visit a local Seven-Eleven, be sure to check it out.
For those that love stationery goods on another level "Stationery Café"
In Omotesando, a popular area with foreign tourists, there is something called the "Stationery Café", a place that stationery enthusiasts will love. Run by Toukou Bros., a wholesaler of paper products and stationery, they sell a large number of notebooks, pens, masking tapes, and other rare and stylish stationery items that are carefully selected. One of the nicest things about this café is that they have a wonderful menu of both food and drink, so you can enjoy a coffee or tea while sitting down to write a letter.
Of course, you will see lots of stationery you will want to buy, and they have lots of stationery that you can use for free. Highly recommended for foreigners who want to try things out before purchasing.
【Homepage】https://www.bun-cafe.com/contact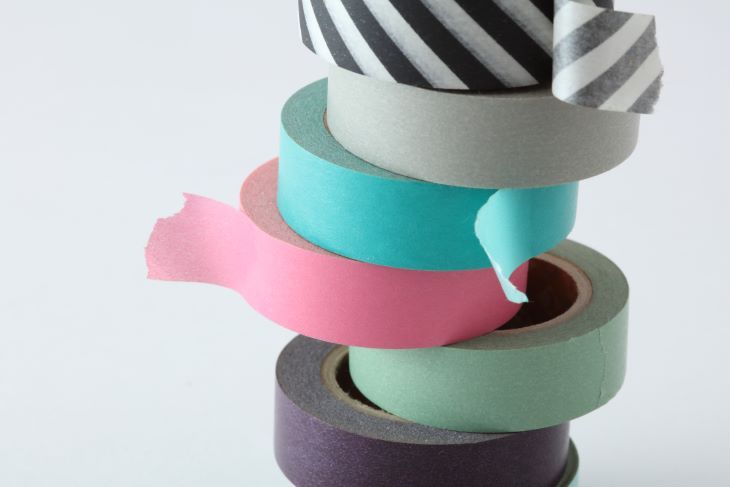 4
A perfect choice as a present or souvenir
・Jetstream
"Jetstream" is a ballpoint pen filled with Japanese technology. Experience the magic of a writing comfort that you will easily become addicted to once used. The feel and movement is so smooth, it will blow you away. Perfect as a souvenir because it does not easily get dirty and lasts a long time.
【Homepage】
https://www.mpuni.co.jp/products/ballpoint_pens/ballpoint/jetstream/standard.html
・Masking Tape (Japanese paper tape)
Masking tape, which is a popular stationery item, can now be purchased in various places for as little as 100 yen. Masking tape is an attractive item because it can be used for all sorts of things, like for wrapping presents or for greeting cards.
The pioneer of the masking tape boom was "Mount" by Kamo Well-Processed Paper Co., Ltd. Be sure to pick up a little bit of this "cuteness" and experience that transparent feel of Japanese paper.
【Homepage】https://www.masking-tape.jp/
・Frixionlight
If you are a stationery enthusiast, you will absolutely love the friction series fluorescent erasable highlighter markers. A highlighter that is erasable? Yes, and can be erased by using the rubber end of the pen itself or with a normal eraser without damaging the ink already there!
【Homepage】https://www.pilot.co.jp/products/pen/sign_marker/keikou_pen/frixionlight/
5 In Conclusion
In this edition, we have taken you on a journey of some of the specialty stationery stores you can find in Tokyo. You wouldn't think that by just changing the pen you use could make such a difference, but we guarantee you will not be disappointed. Try some of the newest goods out and just see if it doesn't bring a smile to your face.
Stationery is something that we use every day without really noticing. Having a favorite item of stationery can actually enrich your life, and this may be one element of the "stationery boom" happening in Tokyo.
Japan has a wide array of stationery made with amazing development effort and inspiration unique to Japan, so we are certain that if purchased as a gift or even as a souvenir, you can't go wrong.
We hope that you will be able to find that perfect stationery item or a favorite stationery shop while in Tokyo using the information introduced this time around.