Let's Use Taxis in Tokyo! Know-How for Foreigners to Use Taxis in Japan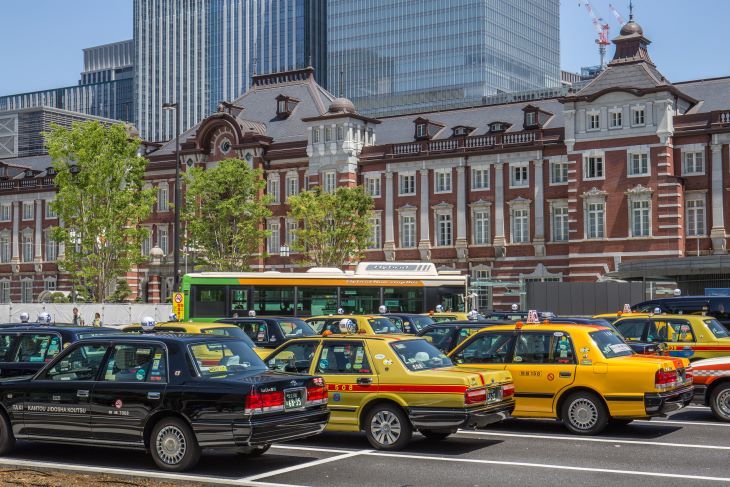 1 How to take a taxi in Japan
Visitors from foreign countries must think about using taxis in Japan because they are often encumbered with luggage or don't know how to get to the destination. Taxis are convenient when you don't have time and are in a rush, however, you may be bewildered by cultural difference unless you look up how to take them in Japan in advance.
In order to catch a taxi in Japan, you have to either hail one on the street by yourself or use those waiting at a taxi pool at hotels and stations or on the main street in a downtown.
To catch a taxi on your own, first you have to find one on the street having a sign "空車(empty)" at the front of the passenger seat, then stretch out your hand so that a taxi driver can see it. If the light on top of the taxi roof is on, it tells you the car is empty. If it is not, it is likely to be booked and, therefore unavailable, so please be careful.
When you successfully catch a taxi, you sit on the rear seats in principle. If you are a group of people, you can also use the passenger seat. Don't forget to put on the seat belt, and tell a driver where you want to go. Some drivers may be able to speak English, but chances are that they don't understand you. If you could show them a guidebook or a map when you tell the destination to them or give them a memo with an address, things would go smoothly.
2 Taxi fare in Japan
Taxi fare in Japan has been said to be expensive compared with train, bus and other transportation fees. As the number of foreigners increases in Japan, however, in 2017, the base fare of taxi was brought down to about 410 yen/km in 23 wards in central Tokyo, Musashino City and Mitaka City. This first taxi fare cut after WWII has enabled us to use taxis in central Tokyo more freely, even for a short distance. In the system, 80 yen will be added to the base fare for every 237 m.
Beware additional charges for use early in the morning or late at night, reservation that includes pick-up service and reservation at designated time.
If you ask a taxi driver, you can stop by at convenience stores, banks and other places you want. But, you must remember that it is charged during the stop as well.
【Reference】http://www.nihon-kotsu.co.jp/taxi/fare/
3 Different from other countries!? What are taxis in Japan like?
There is something that surprises foreigners when they first use a taxi in Japan.
First, Japanese taxi drivers wear white gloves and most of them are courteous. The car interior is well-cleaned and very sanitary. On top of that, fare is clearly decided, so practically there is no trouble like rip-off. This can be Japanese taxi's huge attraction. As you don't have to give a tip to a driver in Japan, all you have to pay is taxi fare.
Additionally, because rear seat doors of a Japanese taxi open automatically, you don't need to open them by yourself. When you sit on the rear seats, only you have to do is to get into/out of the car; a driver will open the door for you. If you have cumbersome luggage, a driver will open a trunk for you. You won't get extra charge for using a trunk.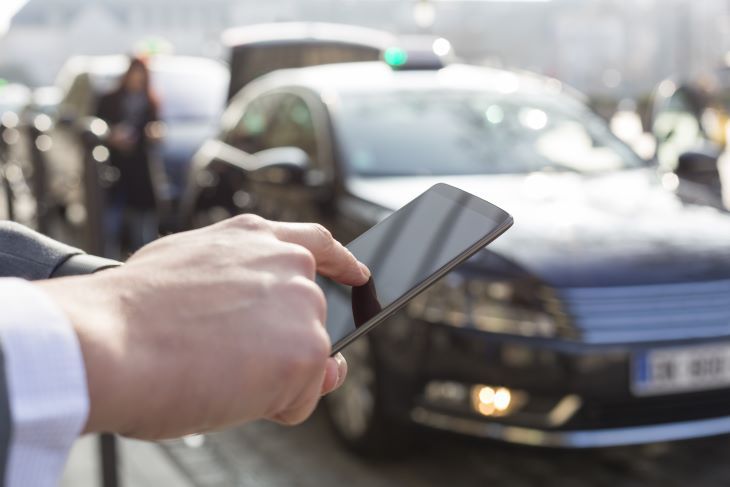 4 Useful apps when using taxi
You can use taxi call apps, which use a GPS function of smartphones to bring a taxi to your place. With some apps, you can make a reservation to call a taxi, so installing them in your smartphone can be useful. Since there are several types of those apps, choose one from them that is available in your area and easy for you to use.
・Japan Taxi
Japan Taxi can be used everywhere in Japan, which makes it one of the most popular taxi call apps. It collaborates with more than 800 taxi firms all over Japan, having more than 60,000 taxis in place. You can pay with your credit card registered in the app using an online payment called Japan Taxi Wallet.
【Reference】https://japantaxi.co.jp/
・Uber
Uber is a ridesharing app born in the United States, however, in Japan, taxi call service run by Daiichi Koutsu Sangyo group is available with the app. The app can be used not only in Japan, but also in major cities in Asia, Mideast, North America and Europe, so it would be a useful app for foreigners who visit Japan. In Japan, Uber is available in Tokyo, Osaka, Kyoto and Kobe.
【Reference】https://www.uber.com/ja-JP/ride/ubertaxi/
・Fulcul
An app called Fulcul is a taxi call app named after Japanese words "furu (shake)" and "kuru (come)" as you can call a taxi by just shaking your smartphone. With this app, you are able to check empty taxis within a radius of 500m from you, and just shaking your smartphone can bring a taxi to you without extra fees. Fulcul is available in 23 wards in Tokyo, Musashino City and Mitaka City
【Reference】
https://apps.apple.com/jp/app/%E3%83%95%E3%83%AB%E3%82%AF%E3%83%AB/id1297194516
5 How can you use taxis reasonably?
The reasons Japanese taxi fare is more expensive than that in other countries are high car inspection cost, labor cost and fuel cost. Though it depends on the area where you are and how often you want to use, we recommend using flat-rate taxis like "Rakuraku Taxi" for those who want to cut a taxi fare as much as possible. Even if a taxi you take makes a detour due to traffic congestion, it is more reasonable, because extra fare won't be charged.
【Reference】https://www.rakurakutaxi.jp/
In addition, if there is someone heading to the same destination or in the same direction, using taxi wisely like sharing the ride will cut a taxi fare.
If you want to make a taxi fare as cheap as possible, keep it in mind to get out of the taxi before a taximeter goes up. When you pick up a taxi, look it carefully and make sure to get one going in the same direction as your destination. If you catch one in the opposite lane, a fare to make a U-turn and come to your place will be charged. In case of a road with long no U-turn zone, the car could run quite long before coming. For these reasons, we recommend you to check a map before hailing a taxi to catch one going in the same direction.
6 Message
In this article, we introduced how to take a taxi and recommended taxi call apps in order for you to use taxis stress-free in Japan. Japanese taxi industry is striving to develop apps and others to make it convenient for increased number of foreigners visiting Japan to use taxis. As such, your using taxis in Japan is pretty much appreciated.
We couldn't be happier if the contents of the article will help you use taxis in Japan.