An Experience Foreigners Will Want to Have (Fast, Cheap and Convenient) The Tokyo 1,000-yen Hair Cut


1 About Tokyo Barbers
Have you as a foreigner ever been to or wanted to visit a barber shop in Tokyo?
Different countries have different cultures and different ways of feeling and expressing beauty, so it may be a bit intimidating for foreigners to visit a barber shop in Japan.
However, recently in Japan there has been a spike of barber shops that have lowered their pricing and now have an array of places that offer the "1,000-yen haircut", and it has sparked the interest of Japanese and foreigners alike.
In Japan, the word "cheap" has been around for a long time and there has been a longstanding perception that "anything cheap is not of good quality, so anything that is cheap is not worth buying."
Well, au contraire, monsieur. There is one thing that is not only of good quality, but comes with, and is done with a high level of technical skill at an affordable price. The 1,000-yen haircut in Tokyo.
In the world of Tokyo, where not only is the culture different, but the hairstyles as well, aren't foreigners interested in getting a taste of the 1,000-yen hair cut?
In this edition, we will take you on a tour of some of the fastest, cheapest and convenient 1,000-yen haircut barbers in Tokyo. When we're done, we're confident foreigners will absolutely want to give it a shot, hell, it's only 1,000-yen!
2 Surprisingly cheap! What is the 1,000-yen hair cut?
How much money do foreigners usually pay for a haircut?
At a barber shops or beauty salons in Tokyo, the usual price for a only a haircut is about 5,000 yen, and if the cut is made by a top stylist or the owner of the barber shop or beauty salon, (there is stiff competition between stylists in areas such as Ginza or Omotesando), some hair salons can cost as much as 10,000 yen or more for just the cut.
The simple fact that you can get your hair cut for 1,000-yen (plus tax of course) is a game changer for barber shops and beauty salons, and upsets the "norm" of pricing.
In most cases, barber shops and beauty salons include services such as shampoo, blow dry and styling along with the hair cut in their pricing as a general rule. However, when talking about the 1,000-yen haircut, that is exactly (and only) what you get, a haircut and does not include shampoo, blow dry or styling.
At some establishments, they are "haircut only" types, so you will need to venture home and shower up to remove the unseen hair that remains on your scalp. Of course, for those who want additional services like shampooing can ask for that service for an additional cost if available.
In the end, the 1,000-yen haircut is a perfect solution for those who want a quick fix to the dome, and an experience with the skills of a Japanese hair technician.
3 The reasons we want foreigners to try the 1,000-yen haircut in Tokyo
On a more honest note, there are some people who worry about the level of service and skill they can expect from a service so cheap. We say, for 1,000-yen, you can't go wrong. Here is a list of the reasons we think you should take the leap of faith.
・The amount of time from start to finish is extremely quick
In general, if you go to a barber shop or beauty salon, the time you will spend getting your hair cut can be as long as an hour or more. However, a 1,000-yen haircut can have you in and out in less than 20 minutes. Many establishments that provide haircuts for 1,000-yen do not have a reservation system, so waiting times may vary when the shop is busy or has a limited number of stations, but it can still be a quick in and out process as the haircuts are usually very quick. A wonderful point to consider for those who are stretched for time.
・There are lots of places that have very skilled barbers
You may worry that you will encounter a barber that is not very good or inexperienced for such a low price, but actually, the people working at 1,000-yen barber shops are professionals who specialize in cutting hair. Some of these barbers have chosen to take the path of working at a 1,000-yen barber shop because of a lack of skill in other areas. An example of this would be while they are very good at cutting, they may not be very good at doing things like shampooing, or coloring, or maybe they only studied how to cut and don't know the other finer aspects of full-service salons.
Also, because of the time spent on other tasks at a full-service salon, they don't get to spend time doing what they are good at, which in turn can attract rather highly skilled barbers who love to cut to these types of 1,000-yen haircut barber shops.
Of course, there will be an element of compatibility and preference, but at the price of a lunch, maybe you will find that perfect barber for you and become a repeat customer.
・No time to chit chat
In general, at these types of barber shops, they are cut specialist, so there is not a whole lot of time to shoot the breeze. That being the case, for those who do not speak Japanese, this can be a low stress, quick and easy in and out process.
・ Important points to know about 1,000-yen barber shops
It is not uncommon for 1,000-yen barbers to have some unique rules in order to maintain their low prices. Here are some important things to know so as to avoid any miscommunication or trouble.
・Reservations are not allowed at most shops
An overwhelming majority of 1,000-yen barber shops have a no reservation system. Most will have a ticket vending machine at the entrance where you will need to buy a ticket and hand it over to the barber for your haircut.
**Because there is no guarantee of the time you will get in or out, it is best to pick a day to visit when you have a flexible schedule avoid making a visit on the days when your schedule doesn't allow for some flexibility.
・You may not be able to pick your barber
Even if you find your favorite barber at one of these shops, you may not be able to have that person cut your hair depending on the day. There is a first come first serve system in place so chances are you will be given to the first available barber when you visit.
・If you are using gel or other styling product in your hair, you may not be able to get your hair cut on that day
1,000-yen haircut barbers do not usually have a shampoo option. If you are planning on making a visit, be sure to do so when you are not using gel or other styling products in your hair.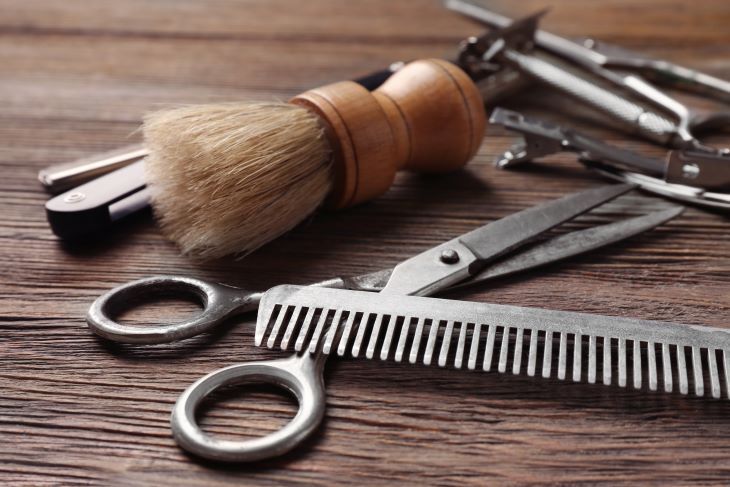 5 Some of the 1,000-yen haircut barbers in Tokyo
・QB House
QB House is a barber where you can get your hair cut in 10 minutes. The current pricing has jumped a bit to 1,200 yen, but is said to be the pioneer of the 1,000-yen haircut in Tokyo.
【Homepage】https://www.qbhouse.co.jp/
・Cut Factory
The Cut Factory offers haircuts for 1,000-yen. It is also a place with the concept of "you will be thoroughly satisfied" with your haircut.
【Homepage】http://www.cut-factory.net/shop/
・Avanti
Avanti haircuts cost 1,000-yen, and the in and out time is 15 minutes.
【Homepage】https://avanti1000.com/
As you can see, there are a number of 1,000-yen barbers in Tokyo and more often than not, there is a convenient location close to you.
Most of the 1,000-yen barbers do not have English speaking staff, so there may be a language barrier which will make it hard to convey the image of exactly what you want, but most will have magazines with different pictures of hair styles that you can choose from, or you can bring a picture of what you want and show it to the barber.
6 In Conclusion
In this edition, we have introduced you to some of the popular and affordable 1,000-yen barbers in Tokyo. The fact that you can freshen up with a new haircut for 1,000-yen is a wonderful thing. Of course, there are a few merits and demerits to this kind of service, but all in all, it is definitely something you may want to experience. We hope you can use this information to find a 1,000-yen barber that can help you to change your image with a quick in and out experience.