Spots to visit when sightseeing in Tokyo! Why "Meiji Jingu Shrine" is so popular with foreign tourists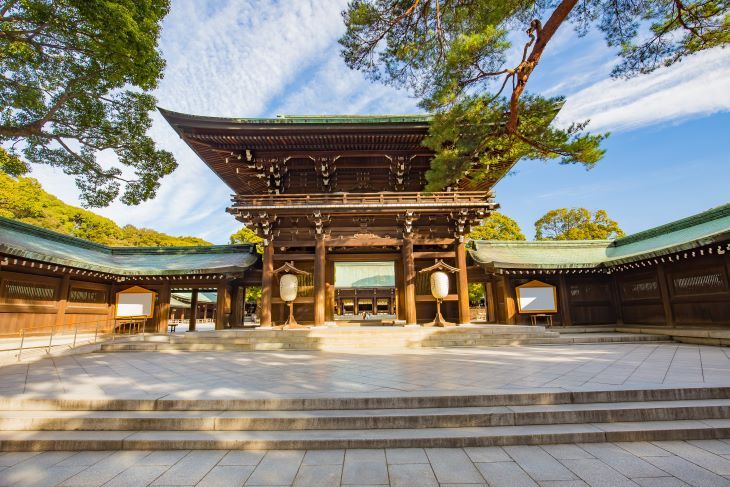 1 A very popular power spot "Meiji Jingu Shrine"
Foreign tourists visiting Japan like to visit shrines and temples filled with the unique culture and charm of Japan. One of the most popular shrines in Japan is Meiji Jingu Shrine located in Shibuya, Tokyo on a very large plot of land surrounded by an abundance of trees and is easily accessible from JR Harajuku Station and Tokyo Metro Meiji-Jingumae Station. Meiji Jingu Shrine is one of the must see places in Tokyo that foreigners should definitely make time to visit.
In this article, we will introduce you to the Meiji Jingu Shrine, a power spot surrounded by an oasis that will help you forget the hustle and bustle of the city, as well as some of the attractions that we recommend for foreign tourists.
2 The history of Meiji Jingu Shrine
There are lots of shrines all over Japan, and among them, shrines with a royal family or those that worship the Emperor include the word Jingu. Meiji Jingu is a shrine dedicated to Emperor Meiji, the 122nd emperor who reigned from 1867 to 1912, and his queen, Empress Shoken. On July 30, 1917, the Meiji Shrine was enshrined and formally dedicated in 1920. After the passing of the Empress, on April 11, 1914 there was a national movement by the people who wished to commemorate their virtues. Emperor Meiji and Empress Shoken always thought first of the country, so the people worshiped them and wanted to venerate their spirits forever. There were lots of candidate sites in Tokyo for the construction of Meiji Jingu Shrine, but in the end, an iris garden in Yoyogi, Tokyo where the Emperor and Empress were known to visit was chosen as the final location
Today, Meiji Jingu Shrine is known as a shrine that boasts the highest number of visits every year, and in recent years has become a very popular tourist spot visited by many foreign tourists, as well as by Japanese people. In 2012, it was selected as one of Japan's top 20 tourist spots by Michelin in France, and has been especially popular as one of Japan's leading tourist spots. As of 2020, Meiji Jingu is celebrating its 100th anniversary, and it is said that the number of foreign tourists will increase even more.
3 The benefits and charm of Meiji Jingu Shrine
Meiji Jingu Shrine is where the souls of Emperor Meiji and Empress Shoken are enshrined. It is a shrine that is said to improve stagnation. Not only that, but it is also known as a shrine that has a wide range of benefits, such as providing harmony in marriage, home safety, traffic safety, business prosperity and success. It is also a purification power spot that resets the spirit and paves the way for the future.
Here are some of the most attractive locations inside Meiji Shrine.
・Grove of the village shrine
The forest surrounding the deity's main shrine and worship hall is called the guardian forest. The trees on the grounds of Meiji Jingu were planted and it is not a natural forests, but one which has grown over 100 years.
It is thought to be home to the vitality of nature and has healing and benefits.
・The Great Otorii Entrance (first torii entrance)
One of the most powerful spots at the Meiji Jingu Shrine is the Otorii (entrance gate), located on the south side of the shrine. It is the largest wooden gate in Japan and is made from 1,500 year old cypress trees, and is 12 meters high.
・Married Couples
In front of Meiji Jingu Shrine are two sacred (holy) trees called Meoto Kusu, which are over 100 years old and are known as one of the best power spots. If you want to deepen your relationship with your significant other, similar to the relationship between Emperor Meiji and Empress Shoken who were very close to each other, we recommend visiting these Meoto Kusu trees in front of the worship hall.
The sacred trees are connected by a sacred Shinto straw festoon rope are considered to be the source of God. Note that touching the festoon is not allowed.
・Kiyomasa Well (power spot)
The Kiyomasa Well, known to have been built by Kiyomasa Kato, a warlord in the Sengoku period, is a popular power spot full with a strong purification effect due to its spring water and special structure. Although the Kiyomasa Well has positive benefits in getting rid of bad luck or improving luck, it is also known as a place that will bring bad luck if you visit in the evening or on a rainy day, so be sure to pay attention to the time and weather when planning your visit.
It is also said that if you have a picture of the Kiyomasa Well as your phone's home screen picture, it can bring lucky benefits.
・Meiji Jingu Gyoen Garden
Meiji Jingu Gyoen is a garden rich in nature on the south side of the main shrine. It is a healing spot with beautiful scenery where you can enjoy the atmosphere of a wonderful Japanese garden with a large pond, such as the "Kakuntei", a resting place for the Emperor and Empress.
・Meiji Cultural Hall
On the road approaching the shrine, you will find a hall with various facilities such as a restaurants, a food court, a banquet hall and a souvenir shop. A nice place to relax and enjoy delicious food while taking a rest while at Meiji Jingu Shrine.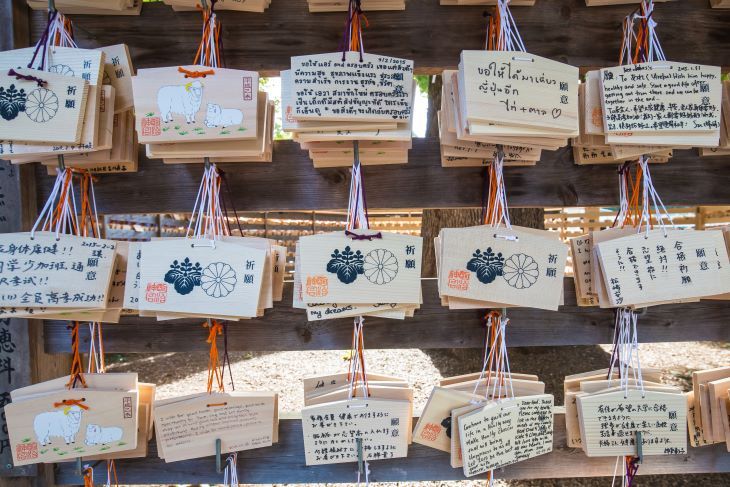 4 Worship at Meiji Jingu Shrine
Meiji Jingu is open to enjoy from sunrise to sunset. It is open every day of the year, so you can visit when you want, but depending on the day, the hours may change so it is best to check the homepage just in case.
In general, you can visit Meiji Jingu Shrine free of charge, but if you want to see the Meiji Jingu Gyoen Gardens, it will require a fee of 500 yen that goes toward maintaining the grounds.
The area around Meiji Jingu Shrine has not only stairs, but also slopes that make it very easily accessible for those with disabilities, strollers and wheelchairs so everyone can visit to worship with peace of mind.
【Homepage】http://www.meijijingu.or.jp/english/index.html
5 How to get to Meiji Jingu Shrine
Meiji Jingu Shrine is close to Omotesando Hills and Harajuku's Takeshita Street, and if you are in the mood for a short stroll, there are various other sightseeing spots close by such as Shibuya's scramble intersection.
The Meiji Jingu Shrine has a north gate, a south gate, and a west gate, each of which are close to different stations and popular sightseeing spots.
North Gate: A 4-minute walk from the west exit of Yoyogi Station on the JR and Toei Subway Oedo Lines, and a 4-minute walk from Kitasando Station on the Tokyo Metro Fukutoshin Line.
South Gate: A 3-minute walk from the Omotesando Exit of JR Harajuku Station, and a 3-minute walk from Meiji Jingumae Station on the Tokyo Metro Chiyoda Line and Fukutoshin Line.
West Gate: A 5-minute walk from Sangubashi Station on the Odakyu Line.
6 In Conclusion
In this edition, for the foreigners who have an interest in Japanese history, we have brought to you detailed information about the history and charm of Meiji Jingu Shrine and the places within the shrine grounds that we recommend.
Meiji Jingu Shrine is an amazing site to see and is one of the more famous power spots in Tokyo. Meiji Jingu Shine is easily accessible from public transportation and is also very close to an array of popular sightseeing spots, such as Omotesando and Harajuku's Takeshita Street and the famous Shibuya scramble crossing.
We hope that the information contained in this article can make your visit to Meiji Jingu Shrine even more enjoyable.