Accommodation Information for Foreigners Visiting Tokyo! A summary of accommodation facilities that will give you an authentic "Japanese" experience.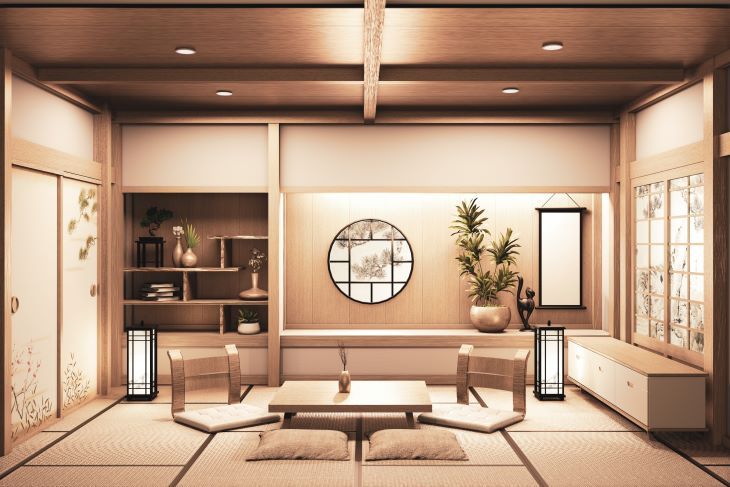 1 Japanese style accommodation facilities catering to "foreign tourists" is on the rise!
With the increase of foreign tourists visiting Japan, a large number of accommodation facilities catering to foreign tourists are appearing all over Japan.
Of course, foreigners traveling to Japan can find accommodations in Tokyo that are easily accessible from airports, major stations, popular sightseeing spots in Japan, and make travel convenient and more fulfilling.
In this article, we will take you on a journey and introduce you to recommended Japanese accommodation options, including the different types available in Japan.
2 Types of accommodations in Japan
Foreign travelers may decide to stay in a hotel that they are familiar with, or choose a hotel that is convenient while staying in Tokyo. Most of the time, you will find the same type of facilities in a hotel in Japan as you would overseas, such as a proper bed or shower, which can relieve the stress you may feel during your travel. Japanese hotels are popular with foreign tourists because of their high level of hospitality, however, in addition to being expensive in the high season, business hotels in popular areas of Tokyo may fill up quickly, so naturally, it would be smart to know what other options are available.
Choose your favorite accommodation in the area you want, and according to your budget while staying in Tokyo.
・Business Hotels
Business hotels in Japan are designed to be used on business trips, and therefore offer rooms at lower prices by minimizing their services and amenities.
These hotels are very convenient when considering access to public transportation and are often located in convenient locations near train stations and major downtown areas. However, most of their rooms are single occupancy and are made for people who need just enough room to sleep and work, so it is not ideal for those who are seeking accommodations for their family.
That being said, in recent years, with the increase of foreign tourists, luxury business hotels are popping up all over and some business hotels, such as city hotels, are increasingly offering more hospitality and amenity services.
・City Hotels (Luxury High-end Hotels)
City Hotels are perfect for both business and leisure. They not only have single occupancy rooms, but also double occupancy rooms and twin rooms. A nice addition to these type of hotels is that they often have some of the most advanced home appliances installed in the room along with an array of amenities.
Accommodation prices are often set a bit higher than business hotels, but also often have florists, fine restaurants, fitness gyms, pools, hot springs and spas. It is not unusual to see a doorman or concierge services at a luxury city hotel. Highly recommended for those who want to experience state-of-the-art services in Tokyo, and for foreign tourists who want a wider choice of amenities and services.
If you want Western-style services, we recommend hotels chains such as the Ritz-Carlton, Mandarin Oriental, Conrad and Grand Hyatt in Tokyo. Among the long-established hotels in Tokyo, luxury hotels such as the Imperial Hotel, Hotel New Otani, and Hotel Okura Tokyo have become quite popular. At some of the well-established hotels in Japan, people sometimes visit to enjoy limited time delicacies such as curry, pancakes and lunch buffets.
・Capsule Hotels
The capsule hotel, which is said to have originated in Osaka, Japan, is exactly what it sounds like, a capsule type private room made for one.
A very reasonably priced accommodation compared to other options and is recommended for foreign tourists who want to limit their accommodation costs. In addition, basic amenities are often provided and security is solid, so you can sleep with peace of mind.
Although capsule hotels are basically only used as a place catch some shut eye, lately there has been an increase of stylishly designed capsule hotels and is perfect for those who want to experience Japanese-style accommodation that is a bit different from the regular, everyday inn or hotel.
・Love Hotels
Love hotels are recommended for couples staying in Tokyo.
Accommodation costs are set per room, not per person, and are often cheaper than business hotels. Love hotels do not offer restaurants or room service, but there is always the option of ordering out for food and drink and includes other interesting and useful amenities.
Some rooms have karaoke systems, saunas or Jacuzzi baths, and some are very stylish in design. A highly recommended lodging option for couples who want an interesting and different kind of accommodation while in Tokyo.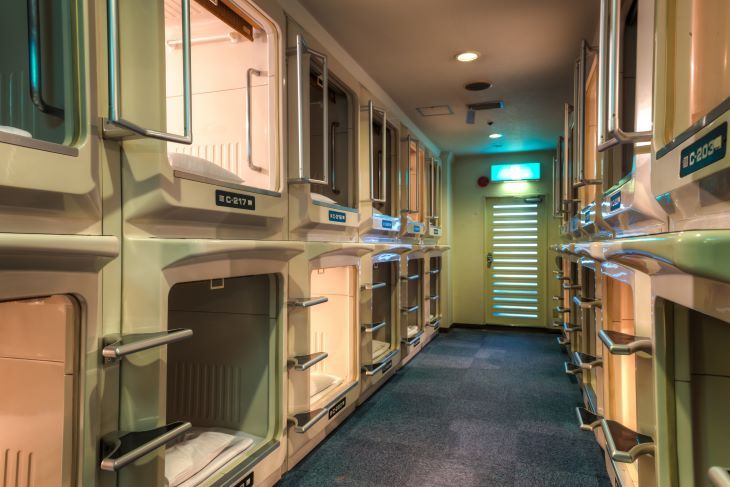 3 The authentic feel of Japan! Recommended accommodation options in Tokyo
The following information will introduce you to accommodations that include tatami rooms and allow you to experience real, traditional Japanese culture.
・Khaosan World Asakusa Ryokan & Hotel
Khaosan World Asakusa Ryokan & Hotel has been converted from a luxury hotel in to a ryokan and hostel, and has three types of rooms: hostels, regular hotel rooms, and love hotel type rooms.
Above all, we recommend the ryokan type where you can sleep on a futon, instead of a bed, in a Japanese-style room.
・SHIBUYA Hotel En
SHIBUYA Hotel En is a 7-minute walk from the Hachiko Exit ticket gate of Shibuya Station, and is a popular choice of accommodation for foreign tourists. This hotel is one in which you can experience eight different concepts related to Japan, such as manga, Japanese hand towels, Noh stage, and Ukiyoe (Japanese woodblock prints) on each respective floor.
On the top floor, there are three types of suites, a cave themed suite, an old house themed suite and an oriental themed suite, with a very elegant feel.
4 In Conclusion
In this article, we have covered some very helpful information about accommodation options for those who are planning to visit Tokyo.
Of course, there are more ryokans than you can shake a stick at with some of the best hot springs if you travel outside of Tokyo, but there are also lots of different accommodations within Tokyo where you can experience an authentic Japanese atmosphere, and get an authentic taste of a ryokan.
Depending on your budget, the facilities may vary greatly, but find the best accommodation within your budget and take some time to relax after spending your day sightseeing in Tokyo. We hope you will be able to use our recommendations and information to make a decision as to what type of accommodation is best for you!