Useful comparative information about the three major shopping districts of in Tokyo for foreigners: Shibuya vs Shinjuku vs Ikebukuro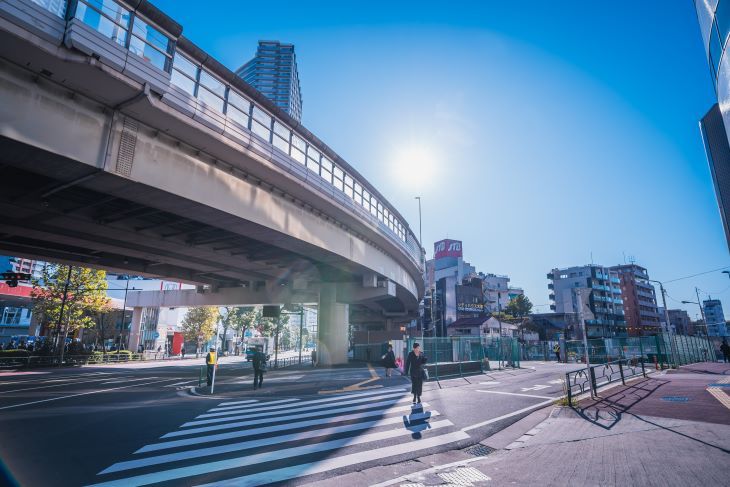 1 The three major shopping districts of Tokyo
Foreigners who plan on visiting Japan will no doubt make plans to visit some of the major train stations in Japan. Within the 23 wards of Tokyo, the capital city of Japan, there are lots of commercial facilities such as restaurants, department stores and specialty shops, and on top of that, there are some places where people will just go to hang out at all times of the day and night. Among all of the places you can go in Tokyo, most foreigners like to hang out in one of the three major downtown areas of either "Shibuya", "Shinjuku" or "Ikebukuro", which are particularly busy all times of the day. These stations always rank in the top three of stations with the largest number of passengers, and are used not only by Japanese people, but lots of foreign tourists as well.
For foreign visitors who are contemplating where to visit for sightseeing while in Tokyo, this article will introduce you to, and provide you with the information you need to know about the atmosphere of Shibuya, Shinjuku and Ikebukuro. All three of these major downtown areas are very close to each other and can easily be visited in one day. This article will help you to narrow down your choice of where you may want to visit while sightseeing to make your trip more productive.

2 The charm and attraction of Shibuya and the shopping district
Shibuya, known as the ground zero of Japan fashion, and is a very convenient station with a total of nine train lines that pass through including the JR line, subways and private railways. Shibuya is known not only for its shopping arcade, but also for the areas around it like Udagawacho, Koen-dori, Dogenzaka, Fire-dori, Bunkamura-dori, Miyamasuzaka and Aoyama-dori. Another attraction of Shibuya is that you can easily walk to Harajuku along streets such as Takeshita-dori and Meiji-dori, which are very popular among foreign visitors to Tokyo and Omotesando.
There are lots of popular sightseeing spots for foreign tourists enjoy in Tokyo including Shibuya Station, where you will find the famous Hachiko statue, a famous meeting place, and the well-known scrambled intersection where more than 3,000 people cross at any given time.
Shibuya Scramble Square, a new attraction in Shibuya, was opened on November 1, 2019. A must-see for foreigners is Shibuya Sky, a rooftop observatory 230 meters high in Shibuya Scramble Square. The scramble crossing can be seen from directly above the intersection and also provides a spectacular view overlooking Tokyo. You can also see the National Stadium, which will be the main venue for the 2020 Tokyo Olympics. In addition, Shibuya PARCO has also been reopened and the area around Shibuya Station is busier than ever. Foreigners who visit the downtown area of Shibuya before sightseeing in Tokyo will have a different perspective and are sure to enjoy Tokyo even more.
Until Shibuya Scramble Square was opened, Shibuya was in close competition to Shinjuku based on the number of foreign tourists who go to visit, but since its opening, Shibuya has taken the top spot, not only among foreign tourists, but also Japanese tourists as well.
3 The charm and attraction of Shinjuku and the shopping district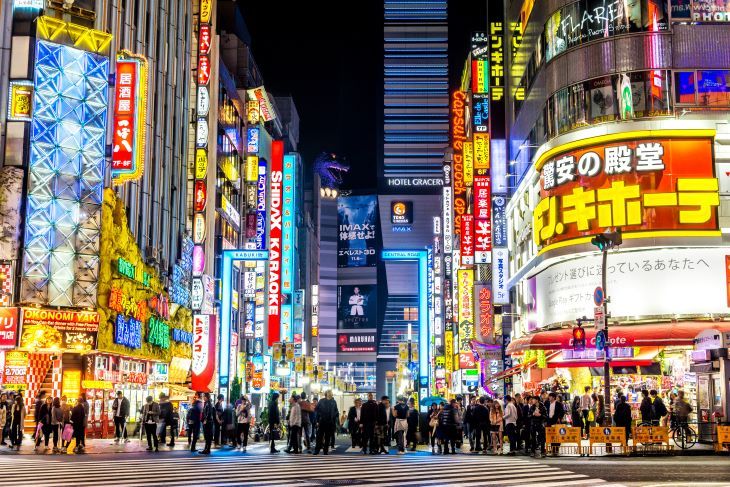 Shinjuku Station is known as the largest station in Japan with a total of 17 train lines, including the JR line, subways and private railways. In addition to the various trains, it also has what's called the Busta Shinjuku, Japan's largest express bus terminal and lots of foreign tourists use the ever so convenient Shinjuku Station to go almost anywhere in Japan. The biggest advantage is the easy access to the airport. On top of this, there are lots of interesting places to visit around Shinjuku Station and it has loads of accommodation options. It is well known that foreigners often use Shinjuku as a base when planning their sightseeing trip in Tokyo because of the wide variety of luxury hotels, capsule hotels and business hotels.
The popular tourist destination of Shinjuku, where you will find Kabukicho, Shinjuku 2-chome and the large underpass bridge close to Shinjuku Station's West Exit. Also, the famous Shinjuku Post Office, Mosaic Street, Memories Yokocho and the area around Shinjuku Station's East Exit which is famous for Koshu Kaido and the Busta, as well as Yasukuni-dori. There are also lots of popular department stores such as Isetan and Takashimaya, and an array of restaurants such as ramen and pancake restaurants where you will no doubt have to line up to get inside. Another attraction of Shinjuku is that you can walk to the Okubo area, where you can enjoy Cheese Takkulbi, which is very popular among Korean tourists, and the Yoyogi area.
Particularly popular among foreigners is Shinjuku's nightlife in Kabukicho and Shinjuku Golden Gai with lots of restaurants that are open late at night. You will also find the famous discount store Don Quijote in Shinjuku's Kabukicho, which is a landmark of Kabukicho, a robot restaurant and an abundance of entertainment facilities.
To thoroughly enjoy your time sightseeing in Tokyo, it really is a no brainer to visit Shinjuku where you can enjoy the nightlife.
4 The charm and attraction of Ikebukuro and the shopping district
Ikebukuro Station, also known for its sacred subculture, also has a total of nine train lines running through it including the JR line, subways and private railways. Ikebukuro Station, the second largest station after Shinjuku Station, has the largest number of daily users and is a station that is used by more people than both Shibuya Station and Tokyo Station. In addition, Ikebukuro is close to the main roads, so there are bus routes not only to Narita Airport and Haneda Airport but also to Aomori, Nagano, Toyama, Osaka, etc.
Downtown Ikebukuro is divided into two areas: the east exit side where you will find Sunshine Street, known for its large commercial facilities and Sunshine 60 as well as Animate, and the west side which centers around Rosa Kaikan. More than anything, the street called "Otome Road", which refers to the area between the intersection near Sunshine 60 and the intersection of Higashi-Ikebukuro 3-chome. This is a popular area among anime and cosplay lovers because of the many specialty stores for anime goods, cosplay and fan fiction comics.
Compared to Shibuya and Shinjuku, Ikebukuro is not a very large city, but it is known as an area where the charm of Japanese subculture is concentrated.
5 In Conclusion
In this article, we have detailed the characteristics and attractions of the three major downtown areas of Shibuya, Shinjuku and Ikebukuro that we want foreigners visiting Tokyo to know about.
Which downtown area is attractive and number one among the three depends on your purpose. The accessibility of each location varies depending on the hotel you choose and your sightseeing plans. We hope foreign visitors to Tokyo can take time to visit Shibuya, Shinjuku and Ikebukuro, and experience the charm of each.
Refer to the contents introduced in this article to make your sightseeing plans more enjoyable and complete.