We want foreigners to know! The "Tokyo Oases" that you wouldn't believe would be in a major city!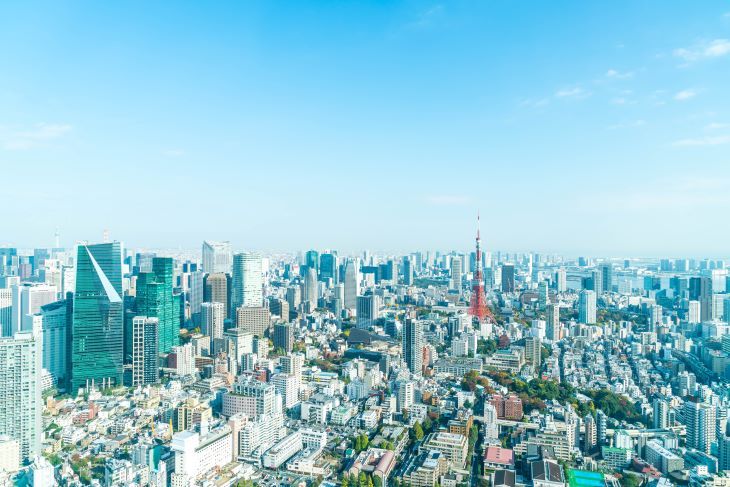 1 There are lots of "Oases" in Tokyo!
As a foreigner visiting Japan from abroad, what is your image of the Japanese capital city Tokyo? There are lots of people who have the image of a city with "lots of high-rise buildings", "lots of commercial facilities bustling with people" or simply, just a "concrete jungle" as is common of a big, modern city. However, there are actually lots of oases where you can go to rid yourself from the fatigue of work and travel. The charm of an oasis that can only be found in the city of Tokyo and is easily accessible and convenient when you feel tired from traveling.
Here are a few of the great urban oases that you can enjoy without having to visit other prefectures. Take a coffee from one of your favorite cafes and bring it with you, or take a lunch and enjoy a picnic.
This information is beneficial to all people, not only foreigners who are planning to travel to Japan for the Tokyo Olympics in 2020, but also for those who are worried about having limited time to travel and for those who are planning on living in Japan in the future. Whether you know about the oases in Tokyo or not, your time in Tokyo will be more enjoyable with this knowledge.
2 Oases in Tokyo!These are our recommended oases for you!
・Shinjuku-ku - Shinjuku Gyoen Park
Shinjuku Gyoen is a vast park founded in 1906 (Meiji 39). It used to be a samurai site, but was transformed into an imperial garden after the Edo Shogunate was defeated. Today, it is a popular tourist spot open to the public and enjoyed by many. There is a minimal entry fee, but Shinjuku Gyoen is huge and is said to be approximately the size of 12 Tokyo Domes. There are various gardens to enjoy, such as a French garden and English garden and you can also enjoy the natural scenery that changes with the seasons, from the deep green of summer to the changing leaves of autumn. In addition to the outdoor gardens, there is also a greenhouse where you can observe various types of rare plants. Business hours vary depending on the season, so be sure to check the hours of operation carefully before making a visit.
・Minato-ku Happoen Park
In Shirokanedai, Minato-ku, Tokyo, there is a garden called Happo-en where you can enjoy sightseeing for free within a city that is well known as a place where celebrities live. Happo-en is a park of just over 8 acres where you can enjoy the beauty a Japanese garden, such as bonsai trees that are over 500 years old, ponds with beautiful Koi fish and the sound of waterfalls. A place full of charm and Japanese tradition with a tea house that was built in the Meiji era and a large garden, best enjoyed by walking around it. Despite being a very beautiful and historic spot, you can visit for free so there are lots of repeat foreign visitors.
Happo-en is also known as a very popular place for weddings and wedding parties, for those who are planning to tie the knot.
In particular, the fantastic garden landscape at night is a highlight. Since the park is open until 10:00 pm, you can enjoy the beautiful history of Japan while taking a walk through the vast garden at night.
・Chiyoda-ku Chidorigafuchi Park(Hanzomon Park)
Chidorigafuchi Park (aka Hanzomon Park), close to the Imperial Palace, is also known in Japan as one of the most famous cherry blossom spots as seen in pictures on postcards. However, it is also an oasis surrounded by greenery and is a park where people who want to enjoy nature can gather regardless of the season.
A healing spot that helps you forget about the hustle and bustle of the city so you won't even notice that there are quite a few office buildings nearby. On holidays, you will notice lots of families spending time together and runners getting their exercise.
Take a ride on one of the popular row boats in Chidorigafuchi Park and feel the healing of nature while enjoying the change of scenery with every season. The moat of the Imperial Palace is nearby so you can also enjoy the view of this wonderful Japanese landscape.
・Shibuya-ku Daikanyama IVY PLACE
IVY PLACE is a cafe / restaurant on villa-like grounds created in the image of a "library in the forest" where you can enjoy delicious food and tea surrounded by nature. There are many cafes and restaurants in Tokyo, but not a lot of places where you can fill your stomach while being healed by nature.
Highly recommended for a break between your sightseeing travels for a refreshment or coffee break to melt away the fatigue of travel.
・Koto-ku Kiyosumi Garden
Kiyosumi Garden is a Japanese-style garden called "Kaiyu shiki rinsen tei en" or "a Japanese garden with a pond in the center". It was recognized and designated as a famous place in Tokyo in 1979.
A garden where you will be greeted by a rich, natural landscape that you wouldn't expect to see in the middle of Tokyo. Because it is built around a pond, you can enjoy taking photos of plants and buildings on the surface of the water.
It is located close to the river and the sea, which allows you to see wild birds and is the reason Kiyosumi Garden is called an urban oasis. In addition, there is a monument with a famous poem by Matsumoto Basho, a haiku poet that was active during the Edo era called "Furuike ya kawazu tobikomu mizuno oto" or "An ancient pond, a frog jumps in, the sound of water" and is one of the gardens where you can really feel the history of Japan.
Kiyosumi Garden is quite conveniently located and is only about 5 minutes on foot from Kiyosumi Shirakawa Station, and there is also a bus that you can take from Akihabara.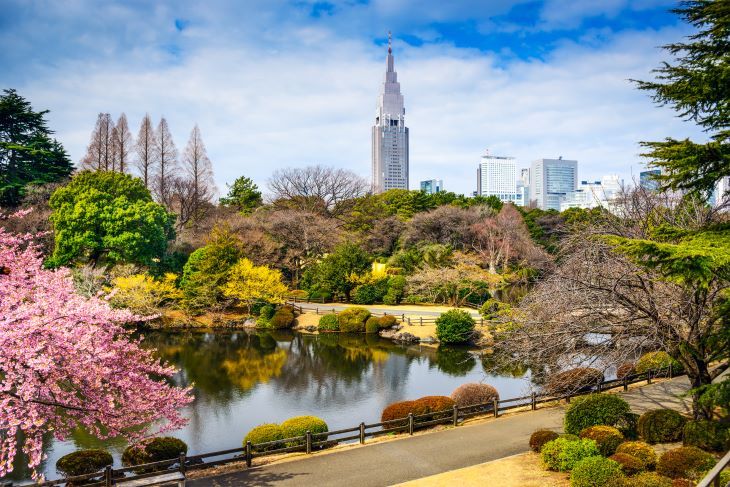 3 In Conclusion
In this edition, we have provided information about the oases in the city of Tokyo that we want foreigners to know about. As you can imagine, Tokyo is a place with lots of people and it can get quite crowded around some of the popular tourists spots close to the major stations, which can be quite tiring.
The urban oases introduced in this article are locations that are in areas close to some of the major stations and are easily accessible, convenient places that will allow you to fit in a visit according to your plans while in Tokyo. Make a point to not only visit the popular tourist destinations, but also take a moment to plan a visit to some of the oases during your trip. The locations introduced above are excellent locations for a date with that special someone, or if you just want somewhere nice to spend with your family. If your plans do not allow you to go far from the city, but you really want to get to a place surrounded by nature and experience the view of wonderful Japanese landscapes, make note of the locations introduced in this article to make your stay in Tokyo even more enjoyable!