Popular in Tokyo! Japan's beloved "fast food" for foreigners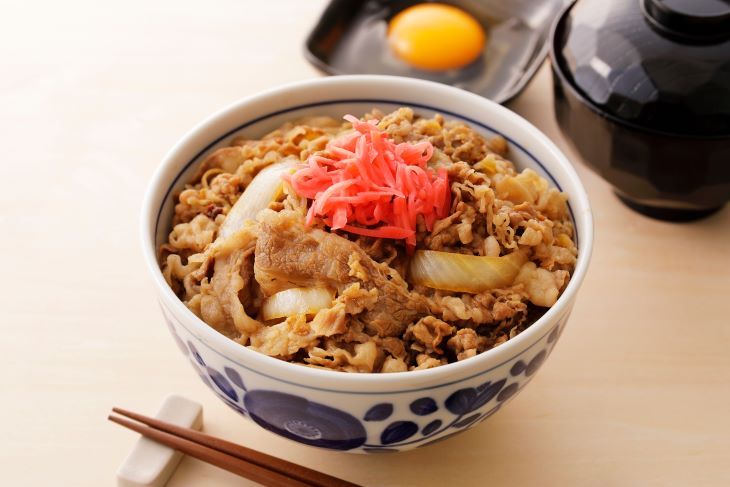 1 Loved by all! Japanese fast food!
In Japan, fast food restaurants such as hamburger restaurants and beef bowl restaurants can be enjoyed anytime, anywhere and are cheap and very popular. You may feel the urge to eat fast food, and there are lots of 24-hour fast food restaurants in Tokyo. You will see not only Japanese office workers and students, but lots of foreign tourist as well during lunch time.
Fast food restaurants prepare your food immediately after ordering, so they are very convenient especially when you are in a hurry, and lots of foreigners like to go to fast food restaurants because they are seen as being a safe place to eat and are known for great taste and quality. While you are sightseeing in Tokyo, there are lots of fast food restaurants that are open even when other restaurants are closed.
In this article, we will introduce you to popular fast food restaurants in Japan by genre. Foreigners who are planning to visit Tokyo in the future can pick and choose their favorite according to their mood.
2 The most popular of fast food restaurants in Japan!Hamburger fast food chain restaurants
The hamburger chain restaurants in Japan are popular among foreigners. McDonald's is a typical hamburger restaurant, but there are others like Mos Burger, Lotteria, Wendy's, Burger King, First Kitchen, Freshness Burger, and Dom Dom Burger. Among those, Mos Burger and Freshness Burger are hamburger chains that originated in Japan. If you're visiting Tokyo, make sure to try a made-in-Japan burger. Perfect for those who are concerned about nutritional balance because they are very particular about the vegetables they use. At Mos Burger, you can also enjoy a variety of rice burgers, so foreigners may encounter a new experience. .
3 Even more popular than hamburger restaurants!? Beef bowl chain restaurants
In Japan, beef bowl restaurants where you can enjoy beef bowls and set meals are more popular than hamburger chain restaurants known among foreigners. Japanese beef bowl restaurants include Yoshinoya, Matsuya, Sukiya, and Tokyo Chikarameshi. There are already beef bowl chain restaurants all over the world, but be sure to try the ones in Japan.
Beef bowl restaurants are popular not only because they are cheap and large in size, but you can also enjoy other food and set meals. Menus have special limited items and the menu also will vary from season to season. Yoshinoya has a "Miso Beef Set Meal" and "Mix Fried Set Meal" as well as other items other than meat on the menu. At Sukiya, not only is there a menu of seafood rice bowls such as the "Vinegared Rice topped with Sliced Raw Tuna'' and the "Raw Tuna with egg Rice Bowl'', but also beef bowls and the "Mushroom Pepperoncino Beef Bowl" as well as a variety of other different items. The best part is that no matter how often you visit, you have a selection that allows you to choose the item that best suits your mood.
For the set meals of beef bowl chain restaurants, they are often well-balanced with delicious rice and side dishes, Japanese miso soup and fresh pickles, with other optional side dishes such as Natto to go with your mood. Perfect for foreigners who want to fill up when sightseeing in Tokyo.
4 I want to try a bowl of rice with something different on top! "Donburi" chain restaurants
If you are hungry, you may very well want to fill your belly. You may even want to eat something other than beef bowls such as Tendon (a bowl of rice topped with deep-fried fish) or Katsudon (a bowl of rice topped with pork cutlet and egg)! In that case, we recommend a donburi chain restaurant where you can enjoy Japanese tempura and pork. The Katsudon chain restaurants include Katsaya and Matsunoya, and the Tendon chain restaurants include Tendon Tenya and Santen.
At the Katsudon chain restaurants, not only can you enjoy Katsudon, but also pork cutlet curry and pork fillet set meals and Tendon chain restaurants have an extensive menu including Udon and Soba that goes well with tempura.
If you want to eat delicious tempura or pork and order at a restaurant that is not a chain restaurant, it can be quite pricey. For foreigners who want to enjoy crispy Japanese pork and delicious tempura at an affordable price, we recommend trying these items at a major chain restaurant. Even at an affordable price, it is absolutely delicious.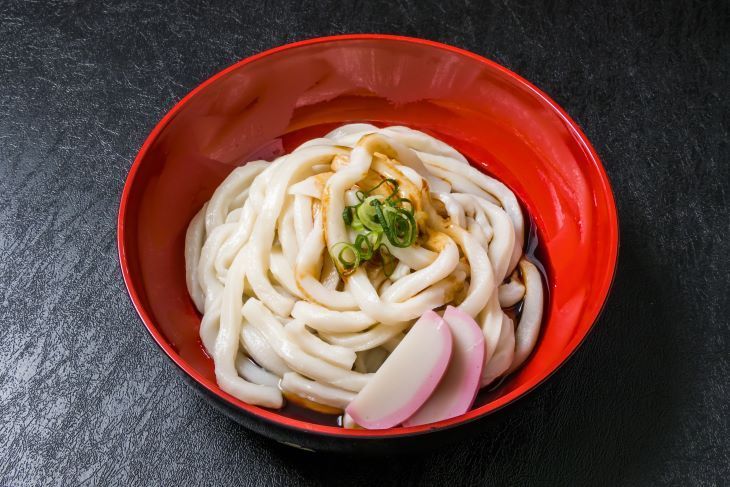 5 Japanese soul food! Udon chain restaurants
Japanese soul food is Udon! Udon chain restaurants include authentic Sanuki Udon (from Kagawa Prefecture) at "Hanamaru Udon" and "Marugame Seimen", which is popular for Kamaage Udon (Udon noodles straight from the pot and not soaked in cold water.) Japanese Udon chain restaurants have been seen all over the world, such as in Hawaii and Taiwan, so there are probably lots of foreigners who have indulged.
Hanamaru Udon is popular among foreigners because it is topped with daikon radish, green onions and lemon. And although not well known, they also have "Oden" (a type of Japanese hot-pot dish consisting of several ingredients such as boiled eggs, radish, konjac, and processed fishcakes stewed in a light, soy-flavored dashi broth) which is popular among foreigners.
Marugame Seimen is attractive choice because it offers freshly made Udon made with noodle making machines installed at each restaurant so you can taste authentic Kamaage Udon without going to Kagawa Prefecture.
You may be confused at first because the Udon chain restaurants require you to pick up and return your trays yourself, but you can also add as much of the additional toppings like fried batter and chopped green onions as you want.
6 Extremely good fast food! "Ramen" chain restaurants
When you think of fast food restaurants, you may think of restaurants that serve hamburgers and beef bowls, but Japanese ramen chain restaurants are also a very popular fast food. Some popular ramen chain restaurants include Korakuen, Hidakaya, Tenkaippin, Kurumaya Ramen, and Rairaitei. Finding your favorite is a lot of fun as each chain restaurant has a different commitment and taste.
Ramen chain restaurants offer not only noodles, but also side dishes and set menus. Going to a ramen restaurant and ordering your favorite side dishes like dumplings or spicy shrimp and a beer is a popular alternative to going to an Izakaya (an informal Japanese pub).
7 In conclusion
In this article, we have provided you with popular fast food restaurant information, for foreigners who already live in Japan or for those who are planning on visiting. .
A common feature of Japanese fast food restaurants is not only that it is "fast, cheap and delicious", but also that it is high in quality and safe. Japanese fast food restaurants are designed with a menus that are easy to understand for foreigners, making ordering easy. We hope you can find your favorite menu items among the many restaurants based on the information in this article and hope you can enjoy fast food restaurants when you visit Tokyo.