Summer in Tokyo is very hot and humid! Here's how you can enjoy Japanese summer and the seasonal traditional culture.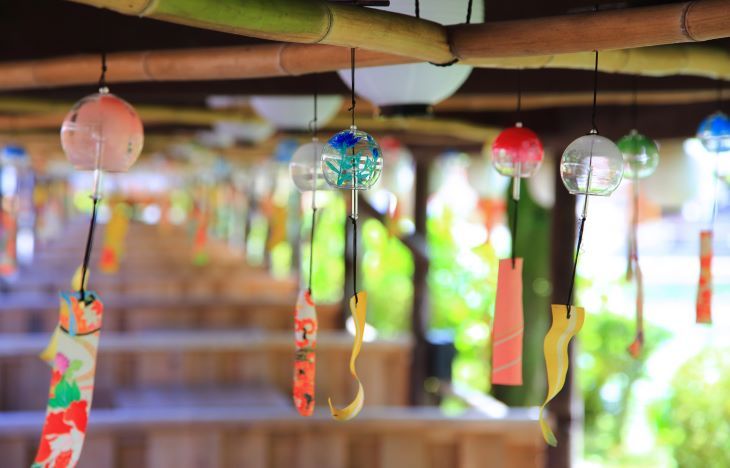 1 The sea-girt country Japan! The summer features
Japan is a country where you can enjoy beautiful natures and food for each one of the four seasons. Especially the summer is the season when many events are held to let people enjoy Japanese traditions lively, so that is also the season when many overseas visitors come to Japan.
However, in the recent years, the number of continuous extremely hot days with the temperatures over 35 Celsius (95℉) has increased. The summer resort areas, such as the north island, Hokkaido, have also become very hot during the day time.
In the Tokyo area, there are also hot days with over 30 Celsius (95℉). There are many tall buildings in the metropolis, and because of the heat discharged from those buildings and the solar heat reflected by the asphalt surface of the streets, the temperature we physically feel can be up to 45 Celsius (113℉).
Japanese summer is typically hot, humid and sticky in these years.
Although impressions about Japanese summer vary by the countries where people are from, many overseas guests get surprised about the high humidity and the heat, that they feel quite hard to deal with.
We, Japanese, have managed to live with such uncomfortable summers by using various traditional clever methods. There are not only the heat but also many sudden heavy rain with lightning strikes happened in the summer, so you may better to be prepared for those.
As mentioned so far, high temperatures and humidity are some typical summer features, but there are many traditional goodies. For example, you must see Japanese summer festivals and events such as: fireworks, Bon-odori (a traditional summer dance event), and regional festivals with a uniquely made mobile shrine for each festival. And also there are many summer-only traditional and beautiful items, such as: wind chimes, summer kimono, Japanese portable fans, and so on.
We would like you to experience these summer traditions, which only you can lively enjoy here, when you come to Japan.
2 Be prepared for the hot summer! Items to beat the heat
The recent summer heat in japan is said to be due to the global weather change. There are some people die from heatstroke every year.
In order to enjoy your stay in Japan, we strongly recommend you to understand the summer features and make relaxed plans with safety precautions, such as taking enough water and salt.
In this article, we are going to introduce you some cool Japanese items, which would help you deal with the sweltering hot summer.
【Reference】https://my-best.com/3178
・Cool towels
There are a few kinds of Cool towels, for example, ones that you keep it in a fridge before using, or other ones can be used by supplying some water and shaking it. Cool towels can be used repeatedly for some times, so they will help you while you are staying in Japan. There are some of them, which can block UV light, so they are helpful for ladies and little children.
【Reference】https://my-best.com/3178
・ Cooling spray
There are some cooling sprays, which are applied directly to your body, but also some others, which can be used by spraying onto clothes. Spraying not only over the shirts but also onto a hand towel and cooling your neck or under arms would help you feel better in the heat.
・Cooling sheets
Cooling sheets have been used to lower the temperature caused by some sickness like a cold, but recently more people use the items to cope with the heat in the summer by applying the sheet to their neck. The color of the sheets is white so it shows off. You may wish to wear a hat or something when you stick the sheet onto your forehead, or cover by a towel when you used the sheet on the back of your neck.
There are also various types of those: ones to be kept in a fridge, or other types to be kept in a freezer before using them. It maybe fan to look for the items which are suitable to your needs.
・ Japanese portable fans
A portable fan, which is a useful item just like a round fan, produces wind by waving it. You can fold it smaller while not in use, so it is easier than a round type fan to take around with you.
You can buy it at a "100 yen shop", where you can buy most items with just 100 yen (before tax), or at some convenience stores these days.
If you wish to buy these fans with traditional Japanese designs, you should visit shops around Asakusa (in Tokyo).
・Japanese parasol
Parasol can prevent the sun light directly falling on your body, therefore the sensory temperature can be reduced. This is also a good item to recommend you.
A Japanese parasol with a blocking UV light effect can be a good souvenir for your memory of visiting Japan.
Also if the parasol is the one that can be used for rain too, then it will also help you from a heavy shower rain.
・Salty candy with Japanese flavors
Your body may loose water and salt due to the hot and high humid weather, and that may put you in a danger of suffering heatstroke. Only taking water is not good for preventing heatstroke. It is important for you to take some salt too. (However, please be careful not to take too much salt.)
We recommend you Japanese flavor salty candies. It can be fun to find your favorite flavors. We now have "ume (a fruit similar to an apricot but having a sour flavor)" or "azuki (sweet red beans)" whose tastes are "very Japanese", and they are available in many shops. These would be also good souvenir.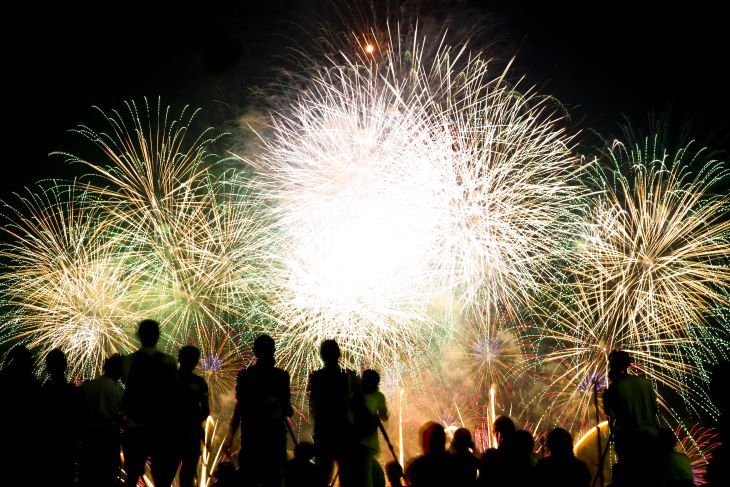 3 The summer events and items in Japan are...
There are so many typical seasonal events and items in Japan, so you'd better check them before coming.
・Firework events
Although we have some fireworks in the winter, the summer fireworks are much more popular and organized at many places throughout Japan. There are many launching style fireworks in a typical events, the beautiful art works are the best part of the events. You should check that if there is one near your accommodation.
・Manually sprinkling water
There is a custom to sprinkle water manually on the street and in the garden around our house. This is a kind of rituals with a meaning of "purifying the place", but also some people believe this would cool down the hot asphalt surface of the streets by doing so.
・Obon
The period around August 15th every year is called "Obon" in Japan. It is a period when Japanese people believe the spirits of their ancestors return to their home and carry out family memorial services. In this period, many Japanese return their mother town and visit their family grave to pay respects to their ancestors, that is a long lived traditional culture in Japan.
・Bon-odori (a traditional summer dance event)
Bon-odori is organized around the "Obon" period. As they are native to each area, each Bon-odori has special name, the way of dancing and musics. In the summer, you can see many happy looking Japanese people wearing summer kimono (called yukata) to take part in their local Bon-odori festival.
・Wind chimes
Beautiful glass wind chimes have been seen in Japan since the Edo era. The charming sound refreshes our feelings even in uncomfortable hot summer. There are different sounds and designs, and you would feel relieved by just looking at it swing in the wind.
4 Lastly...
This time, we have introduced you how to enjoy one of the Japanese four seasons, hot and humid summer.
We have selected this topic to advice overseas visitors some ways to cope with hot summer because Tokyo 2020 Olympic is coming soon.
Many facilities in Japan have air conditioners, so people can be relatively comfortable inside buildings. However, even you are inside, the environment is hot and high humid that you may not be used to, and without noticing, it is possible that you may experience heatstroke.
Preparing not only for the heat but also for heatstroke, we hope you will enjoy many summer events in Japan.